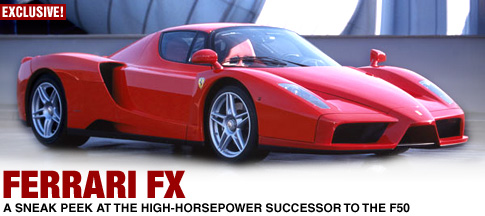 Ferrari once defined "supercar" with its micro-volume, ultra-performance F40 and F50, effectively straddling a line between production and race cars that measured little more than a license plate thick. Both cars employed the latest motorsports technology and construction techniques to create featherweight chassis fitted with high-revving engines that shook the sports car establishment in the 1980s and 1990s, as the F cars dominated their respective decades.

Shaped like a dynamic door jam with a squared off wing, a design that continues to influence high-flying aftermarket spoilers, the 1987 F40 was introduced as a celebration of Ferrari's 40th anniversary. One of the auto world's most recognizable profiles, the US$250,000 F40 featured a Kevlar body wrapped around a Kevlar and carbon-composite framework. The real magic was the twin-turbo, DOHC V-8 that roared with 478 horsepower, good for an estimated 3.9 second 0-60 mph time and 201 mph top speed Ð downright breathtaking back in the Reagan era.

Ten years later, a 50th anniversary model would again set the premium sports car market on end with a daring, Pininfarina-designed F50. Besting its predecessor's output, the carbon-fiber intensive, open-top F50 is powered by a 4.7-liter/513-horsepower V-12. To avoid an overactive, automotive speculation market, like the one that saw F40s auctioned for up to a $1 million apiece, Ferrari created a lease program for the F50. How's US$240,000 down and US$5500 a month sound? At the end of lease, the option to buy was only US$150,000.

Ferrari history has begun writing its latest chapter, with the highly anticipated heir to the F40 and F50 legends making its low-key debut at the Contemporary Art Museum of Tokyo in late April. This non-traditional venue for revealing the next performance flagship is partially explained by Japan being a strong market for Ferrari cars and merchandise. Further, the FX prototype was designed by Ken Okuyama, a former Japanese stylist for Pininfarina who also penned the 2000 Pininfarina Ferrari Rossa concept.

Due to extensive aerodynamic research, a sleek form was molded in carbon-fiber that breaks from the high-wing tradition. From its F1-inspired nose to the wide, ducted fenders, the FX generates enough downforce to negate the need for such bolt-ons. The carbon-fiber chassis is fitted with electronically controlled shocks, advanced traction control system, massive carbon composite disc brakes, and other hardware derived from the Italian automaker's Formula One World Championship experience.

A new 6.0-liter, 48-valve V-12 paired with a clutchless manual transmission with F1-style paddle shifters will be at the heart of this exotic. Horsepower may range as high as 650 Ð enough to ensure this model sets a new standard in the Ferrari stable and quite likely beyond.

The Ferrari FX will officially be presented at the Paris Auto Show on September 26th, when the official name is expected to be announced. Codenamed F140, the two leading production monikers discussed are F60 and Enzo, in honor of the company's founder. Either way, its name will become synonymous with breath-taking 21st-century performance by the time the estimated US$450,000 machine hits the streets.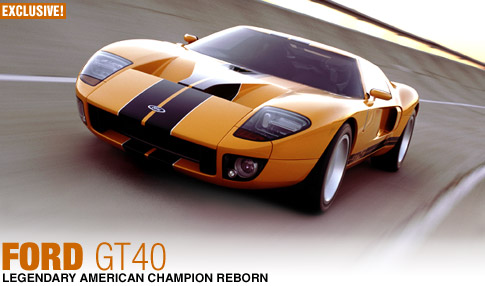 Automotive legends are forged from driven characters, hardened steel, and victories, often both in the boardroom and at the racetrack. The Ford GT40's ongoing history is the penultimate tale of the making of a four-wheeled hero that set records, won the hearts of performance enthusiasts worldwide, and has been reborn to again fuel automotive passion.

After a failed attempt by Henry Ford II to work with Enzo Ferrari on a bid for the 24 Hours of Le Mans race in 1963, the once potential partnership turned into a personal grudge match. So, with assistance from British racecar builder Lola, Ford constructed its own GT car. Named for its 40-inch height, the GT40 ultimately bested the Italians in1966 with a phenomenal 1-2-3 finish at Le Mans, forever securing the GT40's place in infamy. Ford continued to dominate the world endurance racing circuit through 1969, when Ferrari withdrew from the series.

Decades later, the true car guys at Ford's Living Legends Studio have lovingly crafted the modern GT40 concept first shown at the 2002 North American International Auto Show in Detroit. The same group that created the award-winning Thunderbird, Bullitt Mustang, and Forty Nine concept, sculpted and honed clay models into a shape that is unmistakably GT40. A significant departure from the angular 1995 interpretation dubbed GT90 that helped usher in the New Edge design aesthetic, the GT40 concept is a faithful rendition of the original in production-capable form.

"The GT40 concept should do three things: go fast, handle exceptionally, and look great," says Chris Theodore, Ford's vice president of North America Product Development. "To be true to its Ford heritage, we had to create a supercar that would be uniquely a Ford. Anyone can do technology showpieces, high-displacement engine, and modernistic designs, but there's much more to a GT40. There's heritage and heart. We think this car remains true to the spirit of its predecessors."

Lead by studio chief Camilo Pardo, the team worked through several iterations to effectively conjure the hero from Ford's storied past, resisting the temptation to sculpt harsh modern edges and minimize front overhang. The move away from defined computer-aided-design lines creates the defining organic, muscular appearance that stands in stark contrast to many of the show circuit's recent concepts.
"We felt it was important to build upon the great heritage of this nameplate," says Doug Gaffka, director of Living Legends Studio. "It would have been much easier to pull off a radical design because lines and proportions are not as pre-defined. But the bottom line is, if you're doing a GT40, it had better look like a GT40."
And it does. From a distance, it is difficult for the untrained eye to discern an original from the show car despite significant differences in size. Larger in every dimension, the concept bests the GT40 Mk II by 19 inches in length, 7 inches in width, and 3.5 inches in height. The additional size enabled the designers to create a more driver-friendly package, with narrower doors sills and less central seating position, thanks to fuel cell relocation. Strapped within the four-point harness, the driver surveys an array of analog gauges, six-speed shifter, CD player, leather trim, and aluminum metalwork. No navigation systems, telematics, or other electronic nonsense to distract the driver from engaging in high-horsepower thrill rides.
The real magic lurks behind the driver in the artfully rendered engine compartment. Lead by respected, daresay revered, performance god John Coletti, SVT Engineering built a worthy DOHC 5.4-liter V-8 fitted with four-valve heads and force-fed with a Roots-type Eaton supercharger. Peak output hits 500 horsepower and 500 lb-ft of torque, comparable to the 7.0-liter engine that won the 24 Hours of Le Mans in 1966 and 1967. Those figures also match the 2003 Dodge Viper's output exactly.
This ferocious powerplant rests in a cradle that's firmly secured by a purpose-built, aluminum spaceframe. A custom independent suspension system uses unequal-length control arms and a push-rod/bell-crank system to interface with horizontally mounted dampers, enabling the characteristic low profile. Cross-drilled discs (11.5 inch front, 15 inch rear) are clamped by Alcon six-piston calipers. To accommodate the large brakes and provide the right stance, 18x8-inch tires were used in front, with 19x10-inch rubber filling up the rear.
Talk of how production concerns influenced development has encouraged enthusiasts to hold out hope it would one day hit the streets as a halo vehicle. Conceived with an initial US$70,000 price target, the GT40 is now referred to as a US$100,000 car. As the price increases, the business case for the troubled automaker becomes tougher, especially with the need to support the Aston Martin DB7 Vantage and V12 Vanquish, as well as the Jaguar XK-R. Outside FoMoCo, there is a new wave of supercars to face, with significant competition from Dodge, Ferrari, Lamborghini, Maserati, and Porsche emerging over the next two years.

Despite the hurdles before it, we feel the GT40 is just what Ford needs to breathe new excitement into the company. The instant the stunning GT40 was rolled out on the Detroit show stage, Ford's corporate image soared. The emotion-stirring rumble of classic GT40s was matched by the presence of racing legends Phil Hill, Lloyd Ruby, Bob Bondurant, Carroll Shelby, and Jackie Stewart as they joined Bill Ford, Jr. and the concept vehicle. That kind of magic is hard to reproduce, and the GT40 may be the right magic wand.

Dodge has paved the way for the successful launch of low-volume, high-exposure cars with its Viper. The GT40 could infuse motorsports DNA into the entire product range in a way the Taurus never will. The GT40 could again be inspirational vehicle that has a generation longing to own a Ford.